MLT Alum Feature – J.P. Morgan Executive Director Leyonna Barba
By: Alyson Pierce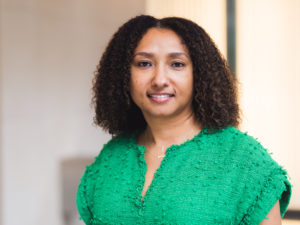 Leyonna Barba shares her story of being a college student with no knowledge of investment banking, to advancing to Executive Director in Corporate Client Banking & Specialized Industries in the Commercial Bank at J.P. Morgan. She highlights the significance of early engagement with internships, and offers advice on what it takes to launch a career in the financial services industry. Barba provides insight into important engines for growth and development in her own career, including her participation in MLT's Career Advancement Program.
Can you tell me a little bit about your background?
I did not grow up reading the Wall Street Journal or watching business news. In all honesty and transparency, I grew up as a welfare kid in the projects of Chicago Heights, Illinois. I went to Illinois Math and Science Academy and had early exposure to the business program at Washington University in St. Louis, so coming out of high school, I wanted to focus on business.
When I got to Washington University, I learned about investment banking as a career option. I did not know anything about investment banking prior to that, but I began to learn more from upperclassmen. I became a finance major and I was advised to add accounting because that's the language of business.
Why do you think it's important to get a head start in planning your career?
People always talk about how internships are about figuring out what you want to do for the rest of your life. That's only partially true. An important part of the internship experience is figuring out what you don't want to do. When you go to college, you generally think you have an idea of what you want to do. The reality is that you really don't know how businesses work until you have work experience.
Luckily, JPMorgan Chase offers many Early Insights programs and internship opportunities to help students try different interests early-on, and that's how you really learn. Programs like the Freshman Experience and Sophomore Development Program are a great way to explore all the opportunities financial services offers early-on and find out what suits your interests and skillsets.
How did you end up at J.P. Morgan? What do you think has been instrumental for your growth within the company?
I had been working for Bank One in Chicago, in their Debt Capital Market Group, when it was announced that the company was being acquired by J.P. Morgan. I was fortunate to secure a role at J.P. Morgan and transferred from Chicago to New York.
J.P. Morgan has some of the smartest and most talented employees. They are invested in the success of others, not just their own interest, and that makes a huge difference. Over the course of my career, I have been able to develop great relationships with my managers. They have pushed me out of my comfort zone and are interested in my success.
What is your favorite thing about working in finance at JPMorgan Chase?
I've definitely gotten to learn a lot and work with some really great people across the firm. I love the client interaction and relationship management, and I love that the work is challenging. I also appreciate our management team and the transparency with which they operate. When you work in an environment in which you know what the goals are and understand why those priorities are important, it helps everyone work smarter and get the best results.
How did you hear about MLT's CAP program and how has it impacted your career?
I was researching opportunities to advance my career at J.P. Morgan and learned about the Executive MBA Program through which I earned my MBA from Columbia University. I was later nominated to be a fellow in MLT's Career Advancement Program (CAP).
The CAP program was phenomenal! It was a safe environment in which I could be very vulnerable once I let my guard down and began to trust the process. I became much more self-aware and really developed my behavioral leadership skills. I also developed relationships with other fellows with whom I still talk to. We discuss our careers, what we're doing to drive change and to achieve our goals.
The Freshman Experience and Sophomore Development Program are just two of many Early Insight and recruiting opportunities that JPMorgan Chase & Co. offers. If you do not qualify for these programs, JPMorgan Chase & Co. encourages you to explore their careers website to learn about other Early Insight programs, internships and general career opportunities that JPMorgan Chase & Co. offers.