Community in the Time of Social Distancing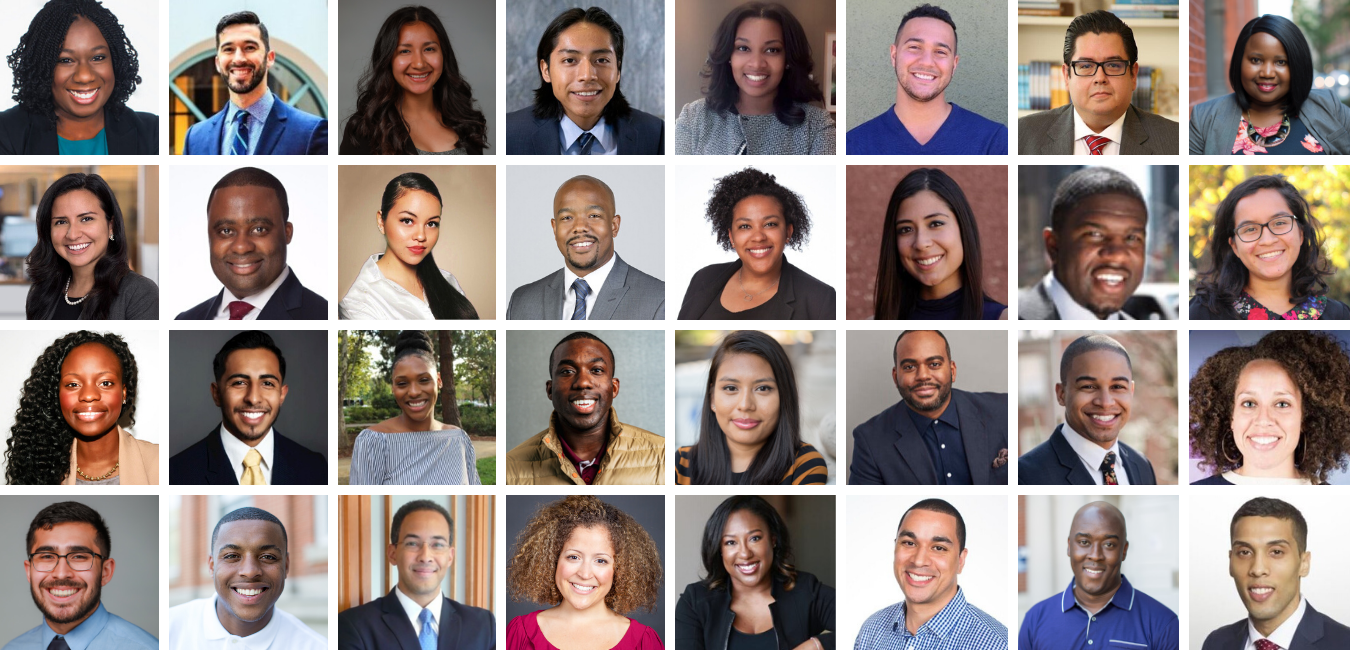 By: Amber Richardson
Spring is always a busy time for MLT, but this year's unprecedented circumstances made it busier than ever. The incredibly talented MLT Events team — known for seamless execution of dynamic events with high-profile speakers from our Partner organizations — was geared up for another year of programming. Then everything changed.
In mid-March, amid stay-at-home orders and an increasingly tumultuous global shift, our entire organization sprang into action to move our programming to an all-virtual delivery model. We found ourselves answering never-before-asked questions: How do we welcome Fellows into the MLT Family and connect them with life-changing opportunities if we are no longer able to gather in person? How will we establish the unbreakable bonds unique to the MLT experience if we can't shake hands and make introductions at our in-person seminars?
Stakes were high, but our team never missed a beat.  
"Everyone needed us," said Damen Hymes, Director of Events at MLT. "Fellows were depending on us to fulfill our promise to introduce them to life-changing opportunities. Partners were looking to us for exclusive access to high-achieving MLT Fellows. And at home, MLT staff needed to know that our programming wouldn't just grind to a halt." 
Damen and his team of seasoned experts pivoted swiftly, and MLT executed five successful events in just five short weeks.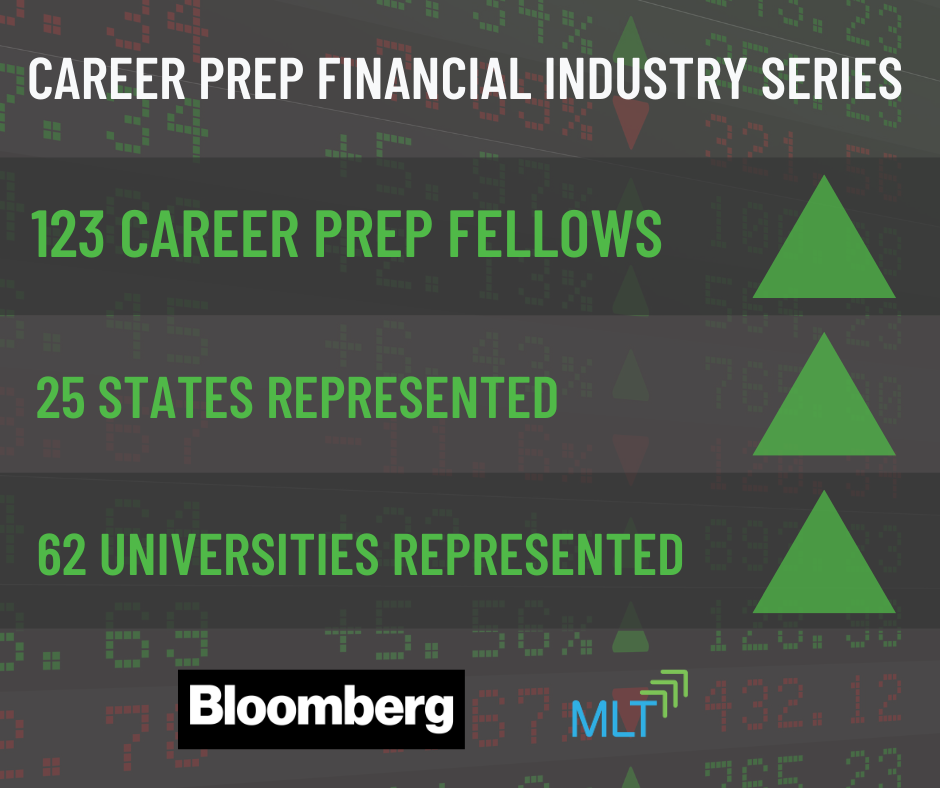 Our inaugural Consulting Bootcamp — an event designed to introduce Career Prep Fellows to skills, strategies, and partners in Consulting — was delivered via Zoom, with multiple breakouts for Fellows to explore individual interests. The Financial Industry Trek, originally planned to take place on Wall Street, was converted to a multi-part, online Financial Industry Series. Fellows joined small roundtable-style discussion groups with MLT Partners, learned about markets, and even competed in an investment competition. Any doubt that MLT would be able to pull off the same caliber of programming in a virtual space was officially assuaged. 
The event that has consistently and nearly universally been called the most impactful of our seminars for MLT's Rising Leaders is the annual MBA Prep Kickoff seminar.  At Kickoff, MLT Founder and CEO John Rice leads Fellows through the "Passion Pitch," which usually involves two Fellows on stage, in a room full of their peers, sharing personal stories about why they've chosen to pursue an MBA, and the impact they aim to achieve. When the event moved online, there was concern that this session might not have the same effect we've all come to expect. During this annual seminar, Rising Leaders engage in powerful and emotional exercises, which lead to both clarity for the individuals and bonding for the cohort.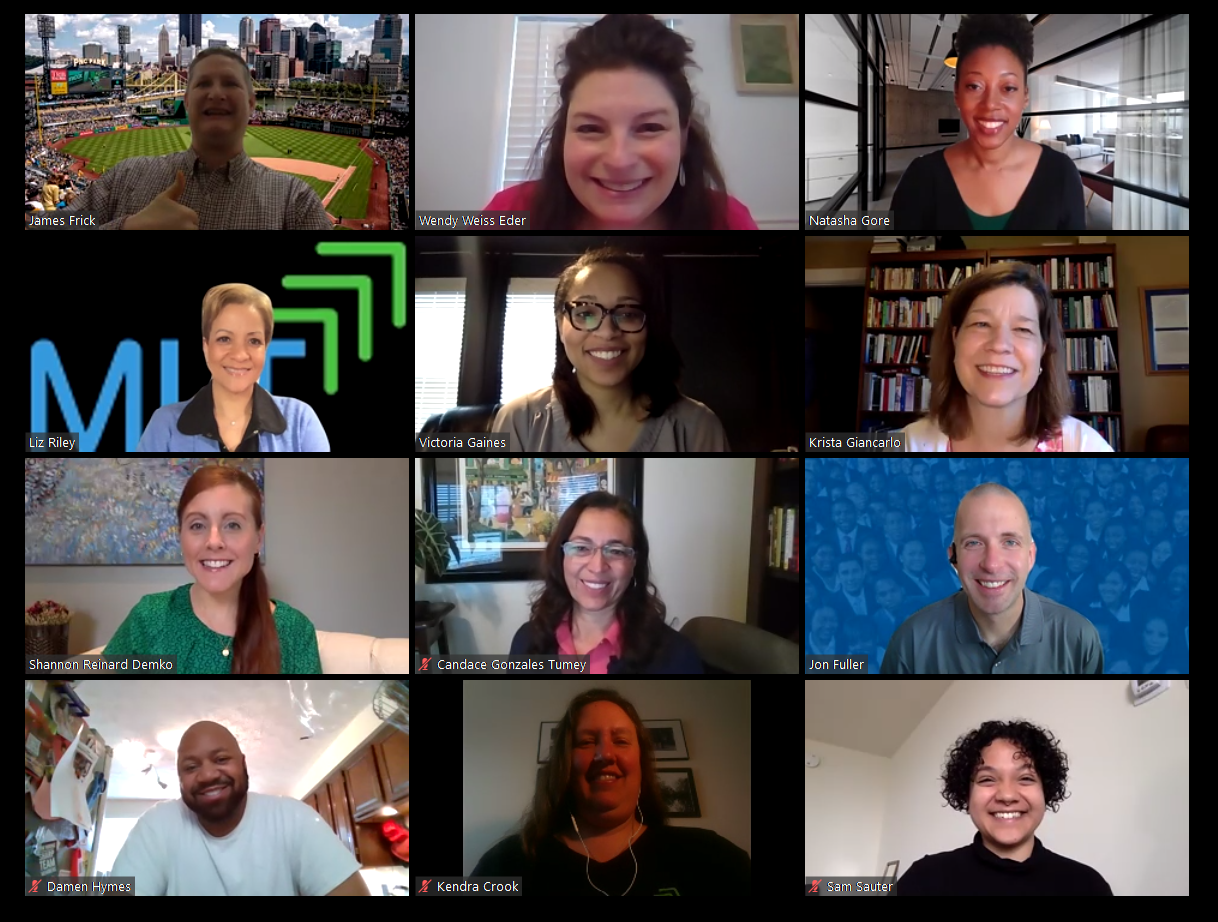 "We wondered if we could make this experience as powerful as our in-person events — if our Fellows would make the same connections virtually, and be as vulnerable with their stories, as they are in person," said Shannon Demko, MBA Prep Director and Senior Coach. "We were astonished by the depth of connections being made, and the sense of community that somehow seemed to form even faster than usual, despite not sharing physical space."
That spirit of connection and community continued with our broader alumni network. The MLT Alumni Team leaned into the new dynamic, listening with renewed intention to the needs and concerns of alums. They committed to uninterrupted resource delivery by launching a series of April Action webinars that engaged hundreds of Fellows and alumni over a two-week period. Topics included upskilling, job hunting, personal finance, entrepreneurship, venture capital, navigating the CARES Act, practicing self-care, and more. 
"Just as we were all coming to terms with the severity of this situation, alumni immediately reached out to offer support," said Nomzana Augustin, Manager of Community Engagement at MLT. "In some cases, that support came in the form of alumni offering expertise that might help others navigate a change in employment or to better survive this economic downturn. Our webinars provided an avenue for that exchange. We've also seen alumni gain a sense of calm and inspiration as they discover that they are not facing this trying time alone. Our alumni have shown the true value of community and network, and we are proud of them."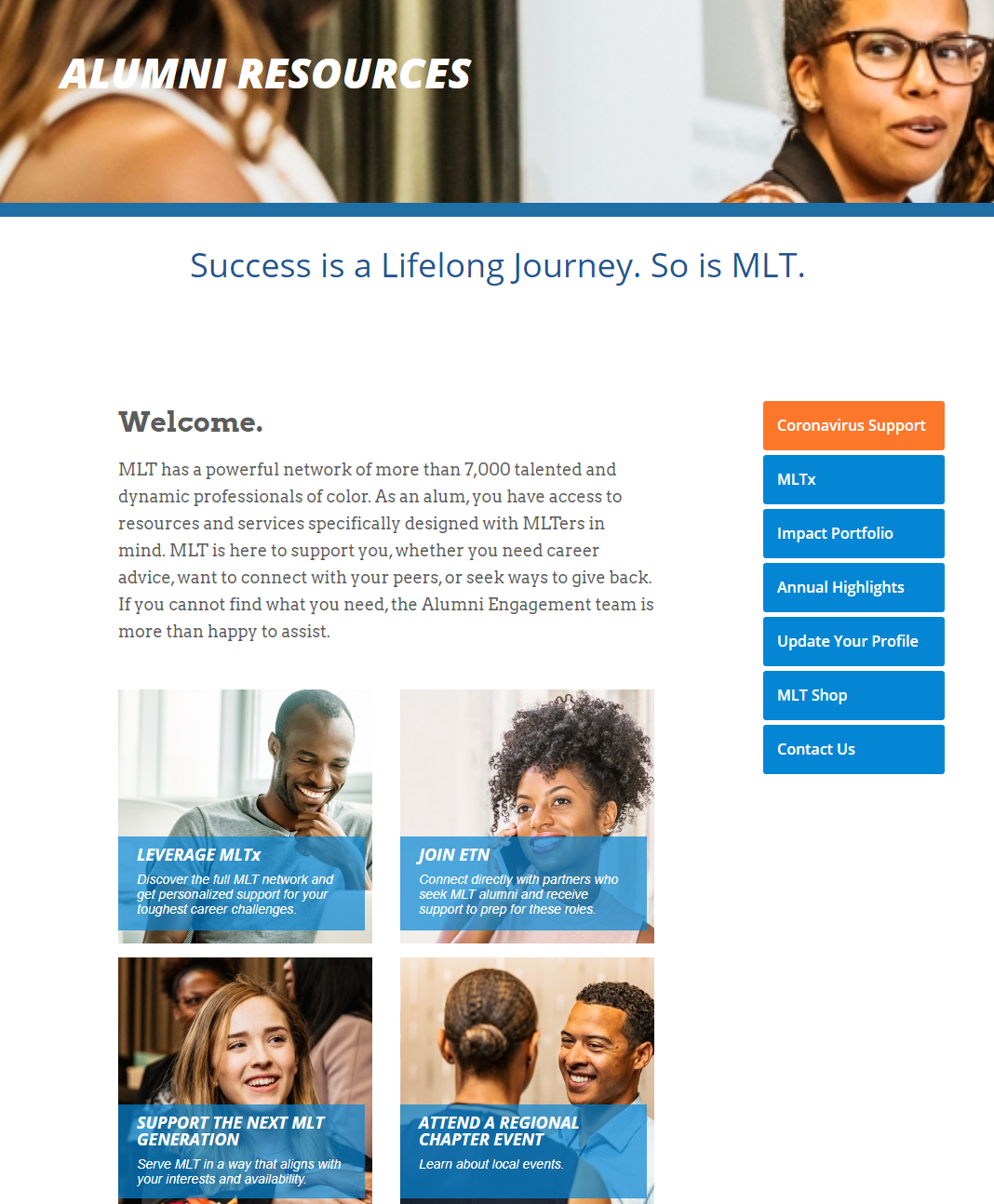 The Alumni Team quickly created a living document to house COVID-19 relief resources for the growing number of alums seeking information and community. And when a few alumni reached out to specifically ask for — and offer — financial support, the Alumni Team set up a relief fund to facilitate a get-and-give exchange between alums. 
"We were overjoyed, but not surprised, by the generosity of our alums," said Desirée Stolar, Director of Alumni Strategy and Engagement at MLT. "As a team, we pulled together, mobilized key stakeholders, and did what was necessary to support our community. Alumni often speak of MLT as this tight-knit family that embodies the principles of supporting one another and lifting as we climb. This fund was one more opportunity to answer that call, and show up for the MLT family at a time when it mattered the most."
More broady, MLT is leaning into "Giving Tuesday Now", a spinoff of Giving Tuesday that takes place on May 5, 2020. This national day of unity, giving, and solidarity is happening much earlier than the typical holiday giving campaign scheduled for the week after Thanksgiving. It's a way to support organizations like ours that are still working hard to support vulnerable populations during the crisis. As May 5 approaches, we know that many of us are navigating incredibly difficult dynamics as we do our best to keep ourselves and our families safe and healthy. For those who are able to give during this time, we encourage you to contribute, as able, to the causes that you support. The most vulnerable among us need us now, more than ever. 
CLICK TO DONATE